by Cross Country Nova Scotia, Staff, October 19, 2021
Hi Everyone – It's time to get excited for skiing! Tempt yourself to discover more club trails and charming communities across our province. View our clubs' awesome winter photos and trail highlights below – start thinking "skiing". We've also highlighted where to find some of our key website information, for new visitors. Ski more, in Nova Scotia.
Follow Us
FACEBOOK | INSTAGRAM | TWITTER
---
Welcome to the 2021-22 ski season! Thank-you for joining the cross-country ski community. Visit our website for helpful information.
Web Highlights:
Keep an eye on our calendar for social skis, loppets (friendly ski events), provincial championships (skiers of all abilities encouraged to attend), courses, and more!
Cross Country Nova Scotia is the not-for-profit governing body for cross-country skiing in Nova Scotia. When joining a cross-country ski club, you also become a member of Cross Country Nova Scotia and Nordiq Canada.
---
Visit a Neighbouring Club!
Have you explored trails at neighbouring clubs? Pack your sense of adventure to experience welcoming ski communities and the natural beauty of our province – on skis.
Four cubs groom approximately 70 km of trails at 10 locations in Nova Scotia. Highlights of our cross-country ski clubs are outlined below. View more club news by visiting our Club Directory.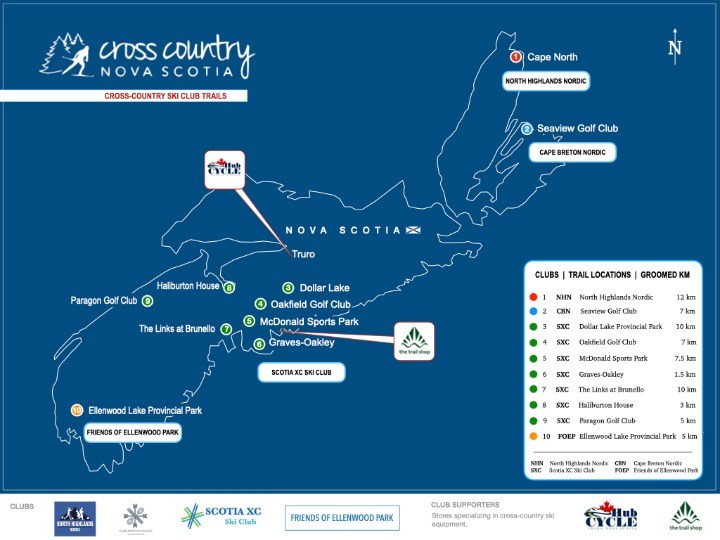 View Map (PDF)
---
East Coast Kids
Join Liam and Lucas as they spend quality time on skis at NHN! Click the link below to catch a glimpse of the majestic beauty of this club, amazing trails, and dedicated volunteers.
Video, click here
---
Plan your trip to North Highlands Nordic!
Website, click here
---
Try Cape Breton Nordic this season!
Facebook, click here
---
CBC News
CBC News featuring ongoing partnerships established by Scotia XC Ski Club with golf courses and municipalities. This interview also highlights the popularity of skiing throughout the province – cross-country ski club volunteers are interviewed.
Video, click here
---
Discover all the trails at Scotia XC Ski Club
Website, click here
---
Friends of Ellenwood Park
Website, click here
---
Learn more about the provincial team.
Team Webpage, click here
---
Hub Cycle, Truro
Website, click here
The Trail Shop
Website, click here
---
FACEBOOK | INSTAGRAM | TWITTER
More News